Meet Dr. Sylvia Fermanian
Dr. Sylvia Fermanian has been practicing family chiropractic in Toronto for more than 25 years. Her goal is to provide a practice where her passion for chiropractic encourages her patients to live healthier lives.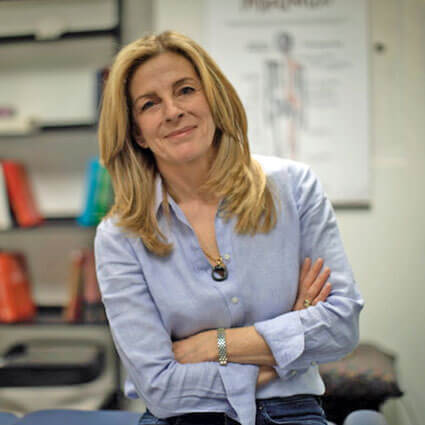 A Different Path to Chiropractic
Dr Sylvia was first introduced to chiropractic through her own injuries playing volleyball. After a few treatments by a family friend who was a chiropractor, she couldn't believe the change in her shoulder mobility!
This lead her to pursue a part time job with another chiropractor. She was so impressed again with how much he helped people and the speed of recovery in his patients. All this ultimately convinced her to apply to chiropractic school.
With the guidance of both her chiropractors, she applied and was accepted at the Los Angeles College of Chiropractic, now known as the Southern California University of Health Sciences, earning her doctor of chiropractic over 30 years ago.
A Hands-on Approach
Dr. Sylvia may use several techniques to provide the best results, but she always pays attention to the needs of each individual patient. She incorporates the Diversified technique for the spine and extremities, Thompson drop table therapy, soft tissue techniques, physical therapy modalities, and is also certified by the International Chiropractic Pediatric Association in the Webster technique, a specific method of adjustment that's helpful during pregnancy.
Dr. Sylvia has always incorporated nutrition and exercise into her patient care, treating the whole person naturally. Her experience with children, and her gentle touch, have encouraged many of her patients to bring in their infants and children for safe and effective chiropractic care. She provides quality care regardless of age or severity of condition to everyone.
Our Services
Outside the Practice
Dr. Sylvia enjoys playing golf or tennis with her daughter, hiking, walks with her dog, and traveling.
Let us Help You!
You can be assured of getting expert care with Dr. Sylvia. Over 25 years of experience is working for you. Contact us today for your first appointment.
---
Dr. Sylvia Fermanian | (416) 322-3619