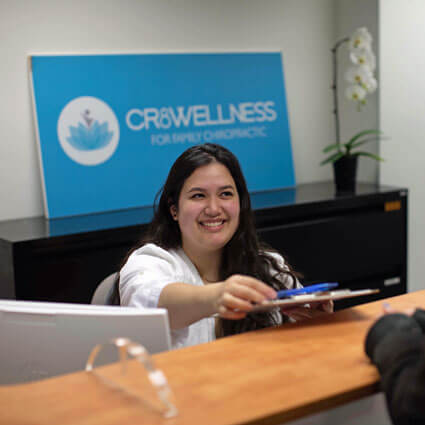 About CR8WELLNESS
Midtown Toronto Chiropractor Dr. Sylvia Fermanian has been providing quality family chiropractic services for over 25 years. A native of Midtown Toronto, she opened the current office, CR8WELLNESS, in 2014 to provide chiropractic and wellness services to the community.
Meet Dr. Sylvia

Our Philosophy
To help people understand they can improve their health, and create wellness for themselves and their families. At CR8WELLNESS, we'll give you the tools, and the care you need, to achieve your health goals.
Not Just Adjustments
As a holistic wellness center, chiropractic is just one part of your health plan. To feel healthy and whole, considering other aspects of health, like nutrition and mindfulness services, is an important part of your health journey. Being mindful and present makes controlling health issues easier, and nutritional services strengthen the body, and supplement your diet to add value to your life and improve health conditions.
Services for Healthy Living
Massage, naturopathy, and other services are ways we support your wellness goals. Along with chiropractic care, these therapies help you focus on areas of your health where you may need additional guidance. This allows us to work with you to find ways to feel better and do the things in life that are important to you. If you aren't sure what kinds of services will help, we'll advise you on goals that could work for your needs.
Results You Can See
Dr. Sylvia had a new mother come to her from another chiropractor who was under a lot of emotional stress. One morning, she came to the office early, in tears, almost crawling on the floor. Dr. Sylvia gave her some gentle care, until her husband came for her. After several tests at the hospital, she returned to us for care.
Dr. Sylvia found three herniated discs in her lumbar spine, radiculopathy in her legs, and muscle weakness, making walking or taking care of the baby difficult. After several months of care, the mom is back at work, and all those issues are behind her.
Making A Difference
Quality wellness care at CR8WELLNESS is making a difference in many people's lives. Why not yours? Make an appointment today!
---
About CR8WELLNESS | (416) 322-3619